We'll be back in the Fall!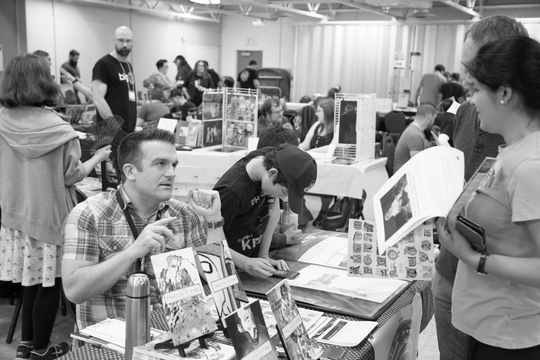 The Panel One Comic Creator Festival will be held on Saturday, October 1, 2022 at the Hillhurst Sunnyside Community Association.
What is the Panel One Comic Creator Festival?
The festival was created in 2016 to put a spotlight on original work
from local Canadian comic book creators and graphic storytellers. The festival is a chance for creators to connect with one another and the Calgary comics community.
Table registration is now OPEN!
What you need to know about tabling.
Tables are $60.
Payment for your table is due on September 2, 2022, not due the day of registration.
Payment instructions will be provided in your confirmation email.
#P1CCF is about featuring your original work.
The Festival is a space for your original work in comics and sequential art. You can sell comics, zines, books, prints, buttons, mugs, bags, T-shirts, stickers, etc. from that original work. If you created it and you own it, you can sell it.
You may not display or sell fan art of licensed property at the Festival. An exception to this rule is if you have worked on a licensed property as a writer, an artist, letterer, etc. or if you have a private commision.
We focus on diversity, inclusion and safety.
Panel One Comics Society is dedicated to providing a safe and fun environment for everyone, regardless of gender, gender identity and expression, sexual orientation, ability, physical appearance, body size, race, age, or religion. We do not tolerate harassment of vendors or attendees in any form.