The Panel One Comic Creator Festival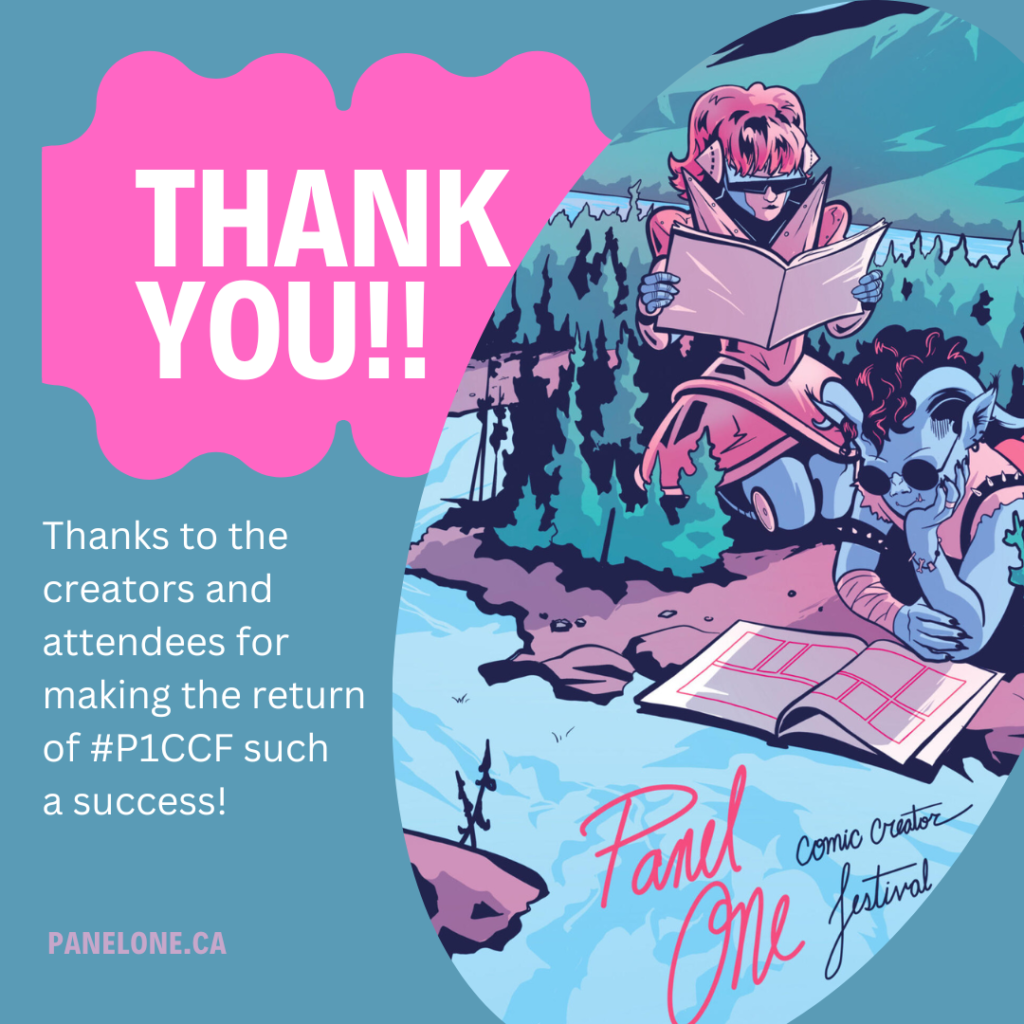 THANK YOU!
Thank you to everyone who tabled and attended the Panel One Comic Creator Festival. Nothing is more creatively inspiring than sticking 50+ comic creators in a room together. After a hiatus due to the pandemic, returning to the Panel One Comic Creator Festival was absolutely thrilling for the organizers, creators and attendees. 
Thank you for your support – the return of P1CCF was a huge success! 
Keep your eyes peeled on our website, social media and newsletter for the 2023 festival dates.
What is the Panel One Comic Creator Festival?
The festival was created in 2016 to put a spotlight on original work from local Canadian comic book creators and graphic storytellers. The festival is a chance for creators to connect with one another and the Calgary comics community.
Thank you to 2022's tabling creators!
Aaron Navrady
Achiru Wong
Allblack Studios
Andrew Howell
Anna Kinderwater
Beth Wagner
Bo Wang
Bryce Visser
Caleb Hildenbrandt 
Cam Hayden 
Catherine Dubois
Chad Colpitts
Charlotte Marshall
Chris Naish
Corey Lansdell
Courtney Loberg
Crash Reynolds


Dave Keller
Elaine Will
Gord Cummings
Hunter Murray
Inaki Azpiazu
Irenwill Shi
James Belford
Jillian Fleck
Jillian Dolan
Jon Moretta
Karen Mills
Kat Simmers 
Kate Larking
Laurie Cunningham
Matt Drawberry
Marc Michaud
Maria Gonzalez Curia


Mark Allard-Will
Michael McAdam
Mouse Brown
Nick Johnson
Nicole Gruszecki
Perry Parker
Rachelle Ymay Skilling 
Shea Proulx
Sho Uehara
Spenser Wain
Stacy Bru
Steven Rosia
Tamiko Masters
Tilted Windmill Healing Centre
Trevor Gieske
Zach Schuster
Meet our official festival media partner
GeekNerdNet is returning as the official festival media partner for the Panel One Comic Creator Festival! 
Stories from the Panel One Comic Creator Festival will be posted here shortly.